LIBER NULL – I, THE SERPENT LP (Osmose Productions)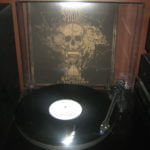 Even though it is, to all intents and purposes, shamelessly derivative and at times comes across like a poor man's Funeral Mist / Marduk, I have to confess to really enjoying Liber Null's debut full-length, 'I, The Serpent'.
Granted, there's nothing ground-breaking, eclectic or particularly mesmerising going on over the course of the six fairly standard black hymns presented (and a distinct sense of having heard it all before, often done much better) – but, nevertheless, this record is not without charm. When you're not listening to great Black Metal, why not settle for some good Black Metal every now and again?
Cutting straight to the chase, 'I, The Serpent' is a rather good if hardly mandatory effort, well worth investigating if you just can't get enough solid-as Satan's-hooves Black Metal in your worthless life.
Evilometer: 444/666