WULKANAZ – PARALYS LP (Helter Skelter Productions)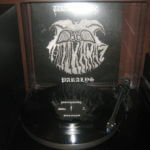 Wulkanaz is one of those artists I can't get enough of, so 'Paralys' was inevitably going to find a place in the devil's collection.  The third full length is a fairly natural and organic progression from its rather excellent predecessors, 'HaglaNaudizEisaz' and 'Paúrpura Fræovíbôkôs' – another 31 minutes of magical mayhem from one of the Black Metal underground's most unique and beguiling voices.
The music on this record is manic and demented. I can (very clearly) picture people in straitjackets jumping around merrily in an asylum listening to it, wondering if they are truly mad or if perhaps it's the ones who put them there who are insane.
Evilometer: 666/666