LIE IN RUINS – TOWARDS DIVINE DEATH 2LP (Dark Descent Records)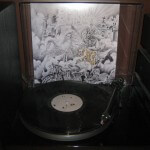 'Towards Divine Death' represents my first exposure to Lie In Ruins, who apparently have been knocking around the Death Metal block (in various guises, on and off) for as many as 21 years. This is the Finns' second full-length and contains nine slabs of labyrinthine DM, clocking in at almost 72 minutes. Yes, a long album.
So it's clearly well worthy of the double-vinyl treatment and this glorious edition features a fantastic gatefold jacket and a small booklet. Looks great. Even though bands like Antediluvian, Portal, Teitanblood, Abyssal, Vasaeleth and Ævangelist pull off this style of horror-steeped, cavernous, ugly new-school Death Metal better, Lie In Ruins are still a welcome late addition to the pack.
Evilometer: 555/666