MEFITIC – WOES OF MORTAL DEVOTION LP (Nuclear War Now!)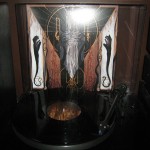 Mefitic from Italy play a swirling, murky, lo-fi hybrid of Black and Death Metal. Their debut album, 'Woes Of Mortal Devotion', should appeal to anyone who enjoys similarly-inclined bands like Abyssal, Grave Miasma, Temple Nightside, Portal, Antediluvian, Mitochondrion, Shroud Of The Heretic etc.
The Italians do it well and the vinyl edition of their maiden full-length looks (despite having miniature lyrics printed in dark brown on a black background and therefore rendered unreadable…) and sounds great. Clearly, you need to buy this record. Adding anything else would be pointless.
Evilometer: 666/666