TETRAGRAMMACIDE – TYPHONIAN WORMHOLES: INDECIPHERABLE ANTI-STRUCTURAL FORMULÆ MLP (Iron Bonehead Productions)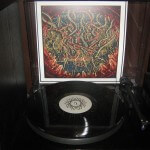 Tetragrammacide from India is a band the likes of which I have never heard before. 'Typhonian Wormholes: Indecipherable Anti-Structural Formulæ' is audial extremity taken to the nth degree; an all-out blitzkrieg of chaotic, inorganic audio terror that sounds like it was created by machines or extraterrestrial lifeforms rather than humans.
Listening to this one-sided mini-album is like having your head pounded by a Kango, spun around in a cement mixer and lobotomised all in one sitting. Actually, it's way more insane than that. Beyond description.
A word of caution: check it out on Bandcamp before purchasing because this is some seriously fucked-up shit that will shock as many of you as it impresses.
Evilometer: 666/666