MOONBLOOD – FROM HELL – THE YEARS OF HERESY 1994-1999 BOXSET (Iron Bonehead Productions)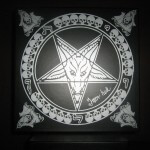 I'm sure you already know of this amazing vinyl boxset anthology from almost two years ago(!), which features three 12" LPs, a picture disc edition of 'Taste Our German Steel!" and a 7" – 30 songs in total and around three hours and 15 minutes of classic Moonblood.
This gigantic release represents a great opportunity to catch up on a fantastic band (that I had overlooked until IBP started reissuing their stuff on black wax). The presentation is excellent; the sound and mix totally outstanding.
All in all, this is a stupendous collection of songs that you will listen to over and over and over again. Utterly amazing and worthy of a lengthier review (obviously) but I'm low on energy right now and just wanted to let you know / remind you that this boxset exists.
If you don't have this already, I'd highly recommend tracking it down. And, if you already own 'From Hell – The Years Of Heresy 1994-1999', maybe I've tempted you to pull it out and give it another spin.
Evilometer: 666/666