GNOSIS – THE THIRD-EYE GATE LP (Nuclear War Now!)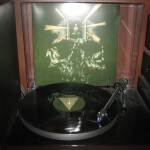 Gnosis hail from Florida, not Hellas; but listening to their debut full-length, 'The Third-Eye Gate', it would easy to make an erroneous assumption as to their geographical origins. This album sounds as Greek as an economic flatline and – even though I'm not necessarily a huge fan of Hellenic Black Metal (whole thing just passed me by…) – I must admit this is rather splendid.
A most enjoyable, rather simplistic, foot-tapping record (just fucking try not to be moved by 'Cult Of The Great Serpent') housed in a gatefold jacket, with lyrics included and a poster that's surprisingly pleasant to look at (I must be losing my marbles).
What more could we desire in these heartachingly-underwhelming, dispirited and soulless times, played out by a pitiful, vacuous, ignorant legion of self-deluded liars, cowards and moral cheats? If nothing else, 'The Third-Eye Gate' offers some respite from the swarming scum that is humanity.
Evilometer: 666/666