ADVERSARIAL – DEATH, ENDLESS NOTHING AND THE BLACK KNIFE OF NIHILISM LP (Dark Descent Records)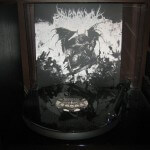 If there's a better record released this year than Adversarial's crushing sophomore, 'Death, Endless Nothing And The Black Knife Of Nihilism', then it will be a welcome surprise. Last week, I received shipment of a fine batch of new records but the rest of them have remained in their sleeves thus far as I've been devoting all my listening time to this monster.
An absorbing, pummelling journey into the murk, 'DENATBKON' is the latest stellar release in a burgeoning Death / Black hybrid world crafted by the likes of Portal, Antediluvian and Mitochondrion but growing in population. Many of these bands are finding their way onto Dark Descent, which makes things easy for us consumers.
The record comes with a booklet, including lyrics, which are also very good.
Evilometer: 666/666