TOMHET – SAMBLADE SOTKVÆDEN 2MC (Altare Productions)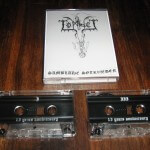 Truth be known, I'm not the world's biggest fan of the cassette format but tapes are a staple diet of the underground and you have to be prepared to deal with them unless you want to miss out on some gems. Tomhet's spectacular 31-song compilation, 'Samblade Sotkvæden' is a case in point. This is a sprawling and high-quality underground Black Metal release that none of us should do without.
The main inspiration behind Tomhet, Kumulonimbus, is the very same man who gives life to the rather brilliant Wulkanaz. The two acts are rather similar in ambition and approach but subtly different (I suppose); both are equally appealing. The only negative thing I can say about 'Samblade Sotkvæden' is that it is almost too generous. Seems to go on forever. Not much of a complaint, is it?
There's some fantastic music to be found on this nicely-packaged double tape and the sound is pretty good for a tape; it just goes to prove once more that the deepest underground has all the best tunes. Great stuff that won't cost you an arm or a leg, provided you can get your hands on a copy (limitation: 300).
Evilometer: 666/666