OCCULTUS – NUCTEMERON LP (N:C:U)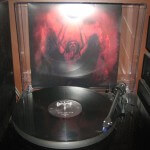 Occultus' debut offers 40 minutes of fierce Russian Black Metal with a dual-vocal approach – deep Eastern growls à la Hate Forest complemented with pained shrieks à la Ripping Corpse. It works nicely. There's a small insert included with 'Nuctemeron' featuring lyrics in both Russian and German, which is handy as it saves me the trouble of reading them.
This is an album that – considering how unimaginative the band moniker is – I would have had no expectations for whatsoever. However, having listened to some of the tracks online to test the water, I decided to take the plunge.
Glad I did. Nothing particularly amazing but still a reasonably good record, which works especially well on headphones.
Evilometer: 444/666