DEMONOMANTIC – GRAIL OF DEFORMED EVILNESS LP (Final Agony Records)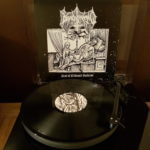 I find it almost remarkable that Swartadauþuz – he of Bekëth Nexëhmü, Mystik and Azelisassath – can not alone switch his focus from melodic, enchanting Black Metal to a much more barbaric form of Death Metal but do it with such distinction.
'Grail Of Deformed Evilness' is a wonderful offering of demented, violent Black / Death that will bring a smile to the face of any masochist who manages to get his or her (or its) hands on it.
A delightful curveball from a prolific artist.
Evilometer: 666/666