NECROBLOOD – COLLAPSE OF THE HUMAN RACE LP (Iron Bonehead Productions)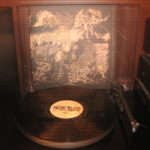 If you pitched Diocletian, Revenge, Antaeus, Archgoat, ZOM and Portal into a super-Satanic blender and pulverised the contents together to create a novel yet strangely familiar monster, then you might just end up with something like Necroblood.
Although there is nothing particularly new here and a lot of the influences shine through clearly, debut full-length 'Collapse Of The Human Race' manages to sound fresh, rather than lazily cloned. This is a very difficult album to describe or pigeonhole as it fuses so many subtly different styles of barbaric Black and Death Metal into its vicious, virulent, obnoxious and ominous attack. Suppose I can just describe it as killer?
Three-quarters of an hour of punishing, pummeling poison with a big, bass-friendly production to maximise impact. Devastating, really, and with a cool intro to boot. You won't go wrong with this monstrosity.
Evilometer: 666/666