TETRAGRAMMACIDE – PRIMAL INCINERATORS OF MORAL MATRIX LP (Iron Bonehead Productions)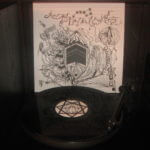 The vinyl edition of Tetragrammacide's debut full-length is a thing of true pummeling beauty. Buttressed by a strong gatefold jacket including bountiful booklet and the obligatory poster, 'Primal Incinerators Of Moral Matrix' is certainly a record that merits a place in any self-disrespecting collection. It looks supreme and sounds even better.
As solid a hybrid of crushing, chaotic Black / Death Metal (complete with batshit lyrics and delightfully odd interludes) as you could wish to witness, this album is subtly more accessible than 'Typhonian Wormholes: Indecipherable Anti-Structural Formulæ'; twice as long; and thrice as nice. Crushing.
Evilometer: 666/666