HARVEST GULGALTHA – ALTARS OF DEVOTION LP (Nuclear War Now!)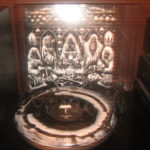 Listening to 'Altars Of Devotion', it sounds almost like Harvest Gulgaltha are in my living room hammering out the tracks and tearing paint from the wall, warping the fireplace, trembling the windowpanes, shaking the timber joists, wooden frames, bricks and plaster of this Hell I call home.
That's how powerful, immediate and devastating this record is; how fitting a panacea to my pained and meaningless daily existence. Mid-paced, gloomy, ultra-heavy Black / Death (mostly Death) as is all the rage now, ripping through the speakers with genuine menace and for all intents and purposes sounding like a fitting sequel to the amazing 'Nihl', although not quite as catchy.
Split vocals are great and a lyric sheet is included so I can stick on the spectacles my decrepit head now requires and read along. I've no real need for the patch or sticker or marbled vinyl, though.
Evilometer: 666/666