ASKEREGN – MONUMENTER LP (Terratur Possessions)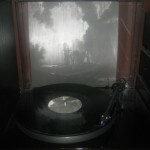 Side A on Askeregn's debut full-length, 'Monumenter', is very much of the blink-and-you'll-miss-it variety, with three songs combined barely making it past the ten-minute mark. It's short for sure but it is nonetheless thoroughly immense Black Metal with a nice punky edge at times; of the aforementioned openers, the third track 'Dømt Til Liv' is particularly enjoyable.
The three significantly-more-substantial outbursts on the flipside take the total running time beyond half an hour and, all in all, though undoubtedly brief, this is an excellent piece of work from a previously-unknown-to-me horde. A definite triumph for quality over quantity, even if 'Monumenter' is ultimately shorter than some MLPs.
Having said all of the above, perhaps I am overly-fixated by the duration of records. After all, this is only slightly shorter than the recently-reviewed maiden ZOM assault, 'Flesh Assimilation', and I had no complaints there. Furthermore, there's a real possibility that a generous helping of this style of oftentimes jagged, crusty BM could constitute overkill.
Conclusion: wonderfully catchy stuff, with some great ambient vibes on 'Ild Til En Sol (Phosphorus)' and the eight-minute-plus parting shot, 'Himmelen Brenner (Under Solen)'. This record has an infectious spirit throughout – and you can experience it twice in an hour!
Evilometer: 666/666