NORTT – ENDELIGT LP (Avantgarde Music)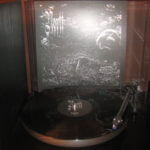 A full decade after 'Galgenfrist', Nortt returns with his fourth full-length and 'Endeligt' is as dark and unsettling a dose of black funeral doom as we could have longed for. It's sombre and melancholy and plodding, rather easy-listening stuff with not much aggression on display but the deep sense of pathos and foreboding evident across the 40-odd minutes renders this a deeply unsettling and crushing experience.
I've always thoroughly enjoyed what Nortt does and I think this is a great, great record, even if there are a lot more crackles on my copy than I'd like there to be.
Evilometer: 666/666