FROZEN GRAVES – FROZEN GRAVES LP (Kuunpalvelus)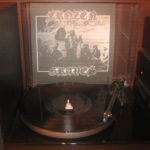 Featuring Luxixul Sumering Auter of Cosmic Church, Aura Saturnal and Asymmetry on drums and keyboards as well as Nécropole vocalist Déchéance, Frozen Graves is a unique, international Black Metal combo that has fashioned a very impressive self-titled debut full-length.
Due to the oftentimes overbearing keys, this record is a bit lusher and more extravagant than I'd ideally prefer. Strangulated vocals are great and there's definitely an otherworldly eeriness at play here. But it's very melodic and easy on the ear, which is certainly not what I was expecting.
Evilometer: 444/666