TRONO ALÉM MORTE – O OLHAR ATENTO DA ESCURIDÃO LP (Signal Rex)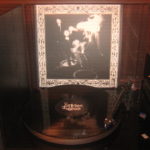 Featuring six lengthy exhibits – direct from the seeping cave – of lo-fi, raw, barely-there, evil-as-all-fuck Black Metal, Trono Além Morte's debut full-length clocks in at nigh on 45 minutes and is a prime example of stellar, straight-up, no nonsense underground Black Metal that eschews production values and accessibility from start to finish.
Filthy and grimy, dank and dripping of decrepitude, 'O Olhar Atento Da Escuridão' is aimed at those outcasts and dark souls who want their music with no polish, no sophistication and no fucking frills.
With underground Black Metal currently dying a slow and painful death at the hands of a bizarre new attention-seeking, bandwagon-hopping,  forum-loving, Instagram-endorsing fanbase due in a large part to the behaviour of certain labels who are deliberately making the music as difficult to access as they possibly can, mistakenly believing that a product which is painfully limited and therefore potentially more valuable on a monetary level is also somehow rendered better and worthier of adulation (and it seems to work to a certain extent), it's refreshing to hear some genuinely carefree Portuguese Black Metal that reeks of the good old days of Discipline and Bubonic Productions, that clearly says Fuck You, and that you can actually get your hands on.
This is an excellent record. Nothing more. Refreshingly gimmick free in a world of sneakiness, speculating and cynicism and an endless race to the bottom where idiots are basing their choice of what music to buy on its potential resale value. Why not just buy records that are good?
Evilometer: 666/666