OBROK – OBROK 2LP (Urtod Void / Medieval Prophecy Records)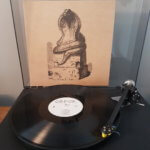 This self-titled double LP from Obrok (or Оброк) gathers together the mysterious Bulgarian duo's three obscure rehearsal tapes with a few bonus tracks added in for good measure. Taking their name from an ancient, sacred resting place to honour dead relatives, Obrok play a suitably raw and improvised hybrid of Black Metal and Doom, which sounds spontaneous, with the emphasis very much on capturing a live rehearsal feeling.
Thus, the music hereon is of demo quality, with no big production or mastering wizardry. The three rehearsals included – recorded in 2016, 2017 and 2019 – are excellent, comprising almost 68 minutes of black doom mysticism in total. The unsophisticated nature of the material is such that you almost feel like you are standing alongside the band in a garage on the outskirts of Sofia.
Side D includes an outtake from Rehearsal 3 plus two live renditions of tracks from Rehearsal 2. I'm not much into listening to actual live recordings with whooping and clapping from the crowd, so the latter detract somewhat from the overall experience but some might enjoy them and for the rest of us there's always the option of lifting the needle after 'Сенки'.
In many respects, records like this are the antidote to clean and polished and theatrical Black Metal. Obrok do things a lot differently than most and there is a wonderful charm and authenticity evident in their work. Urtod Void and Medieval Prophecy Records have also performed an exemplary job with the vinyl edition of this compilation, with the records housed tidily in a beautifully-crafted cardboard gatefold sleeve. The end result is satisfyingly classy.
Evilometer: 666/666