ETERNUM – SUMMONING THE WOLVEN SPIRIT LP (Iron Bonehead Productions)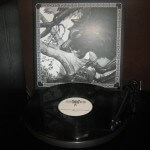 Eternum's second full-length, 'Summoning The Wolven Spirit', was initially released (in house) on CD by Dark Adversary last year but has only recently been granted a vinyl manifestation courtesy of the ever-reliable IBP. This astonisingly-uplifting  album is about as aptly-titled as they come: a call to ancient feral instincts; an ode to the darkness and beauty that lies within the most primal beast.
Generally speaking, I find that melody and Black Metal don't mix too well (that being an exercise in understatement…), but Eternum is one of the few bands that can conjure fantastic dark art that is reasonably raw yet unapologetically lush at the same time. Truly great stuff and definitely one of those (analogue) albums that comes into  its own in the black-wax format.
Evilometer: 666/666