ORDEM SÂTANICA / ADYTUM – ORDEM SÂTANICA / ADYTUM LP (Satanik Requiem / Signal Rex)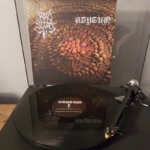 In the truest tradition of uncompromising, raw, underground Black Metal comes this superb split between noisy Portuguese veterans Ordem Satânica and comparative UK newcomer Adytum, delivering 22 minutes of malevolent chills with the emphasis very much on evil analogue annihilation and nihilism – a spiritual and sonic holocaust that's daunting, delirious and disorientating.
The ghoulish emanations of Ordem Satânica – two tracks listed as one, 'Morte Eclesiastica' – are conjured on Side B, typically hellish, haunting and horrific protestations as we have come to expect from the shadowy figures that populate the covert and fertile Aldebaran Circle. Twisted and tormented bellows and howls combine with shrill, scorching instrumentation to produce nightmarish, unpalatable poison imbued with more suffering and dejection that a container-load of souls bound for purgatory. Accessible and modern it is not.
Prior to that, on Side A, Adytum contributes a fizzing, inhospitable breed of occult Black Metal allegiance in the form of 'The Sermon Of Blood And Magick' and 'Exhuming The Ancient Mysteries', a pair of obscure and mysterious curses exhumed from ancient times, exaltations to the darkness of the past, where forbidden spells and clandestine acts granted wisdom and power to the adept.
Ordem Satânica and Adytum complement one another perfectly and this split LP constitutes a harrowing and forlorn procession through the darkest and most decrepit of mindsets, where suffering prevails and there is neither light nor joy. A celebration of agony, anguish and annihilation for the listening pleasure of the lost.
Evilometer: 666/666