AKITSA – SANG NORDIQUE 2LP (Hospital Productions)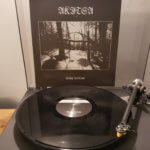 Initially presented to the unsuspecting, ignorant masses in 2002, Akitsa's sophomore full-length offering of intolerant, separatist Nordic Black Metal from the barren icy plains of Quebec, 'Sang Nordique', was excavated from the vaults and reissued in this spectacular vinyl incarnation towards the dying embers of 2019 – the last year before the lunatics took over the asylum and the world was hurled off its orbit into a technocratic, globalist nightmare. This magnificent double-vinyl edition comprises the entire original recording as well as five bonus rehearsal tracks on Side D. Surprisingly, considering the quality – and historic significance – of the music on offer, it's still widely available.
Akitsa's music bristles with pride and authenticity, a strong sense of nostalgia and lamentation supplemented by rage and hostility, indignation and disgust at the loss of old ways perfectly fitting into the traditional Black Metal sound and aesthetic. There's a punky, irreverent attitude evident throughout and Akitsa have always been unique trailblazers through the manner in which they channel their message – belligerently but beautifully. While the riffs and song structures are quite simple, it's impossible not to be captivated and won over by the passion and virulent potency on display.
Although each and every one of their releases is worthy of investigation, 'Sang Nordique' captures a moment in time that resonates strongly today, with all cultures around the world under siege at the hands of a blatant agenda to enslave us, strip us of our individualism and reduce us to subhuman beggars with no free will, no rights and our culture cancelled for good.
The title track is an obvious highlight, confidently relying on mood rather than naked aggression (I'm also particularly partial to the harrowing ten-minute closing ambient piece, 'Fin'), but Akitsa mix it up more than their peers to produce an album with variety, dynamism, gear changes and a variety of influences – all within the raw Black Metal template, of course. If 'Goétie' was a statement of intent and 'Credo' underlined the enduring longevity of Akitsa's misanthropy, 'Sang Nordique' demonstrates that you will discover a gem no matter where you choose to dip into this inimitable entity's discography.
Evilometer: 666/666