ORDO TEMPLI AETERNAE LUCIS / BLESSED IN SIN – TU FUI EGO ERIS LP (Obscure Abhorrence Productions)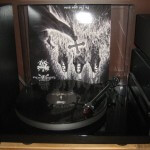 Unfortunately, I was predisposed to not really like 'Tu Fui Ego Eris' very much before even giving it a spin. The reason? The front cover on the record is upside down. Well, it is on my copy anyway… I'm not sure whether this has happened by accident or design. Either way, it is pretty fucking dumb. There is a reason why things are done in a particular way. It makes sense for the front cover on a record to be right side up surely. Otherwise, the whole presentation is arseways … and irritating to boot.
Blessed in Sin and Ordo Templi Aeternae Lucis are two French Black Metal bands with an apparent overlap in membership and convictions. On this split, they provide between them four songs plus an intro, an outro and a medley of (two) Mortuary Drape covers. All in all, it's reasonably enjoyable if sickeningly-melodic fare with a definite Slavonic bent.
Musically, the very, very melodic 'Tu Fui Ego Eris' should appeal to anybody who enjoys Eastern European Black Metal or Pagan Metal. While the actual album itself won't live long in my memory, I can't get past the stupid upside down cover. Compared to that fuck-up, the 48 minutes of fairly average and at times offensively-twee music pales into insignificance.
Evilometer: 111/666