PACT – THE INFERNAL HIERARCHIES, PENETRATING THE THRESHOLD OF NIGHT (Moribund Records)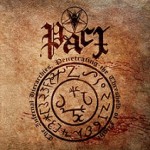 Pact's second full-length, 'The Infernal Hierarchies, Penetrating The Threshold Of Night', is a concisely executed slab of Black Metal in the vein of Scandinavian juggernauts like Gorgoroth or Behexen. It's superbly crafted, immaculately performed and boasts a crystal clear production that allows all the music to rip through the speakers.
On one hand, this is a flawless offering of powerful high-speed Black Metal. But, on the other hand, it's really, really boring. By-the-numbers, uninspiring pseudo-malevolence that – for all of its apparent qualities – is rendered utterly impotent by the fact that ultimately the album serves up nothing remotely interesting.
Alas, a real snoozefest from start to finish.
Evilometer: 111/666