PALE SPEKTRE – BEREFT OF XEROTIC LAYERS LP (Amor Fati Productions / Nuclear War Now! Productions)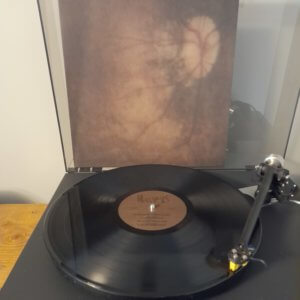 Stellar drumming is just one of the many outstanding attributes that enable Pale Spektre's highly-charged opening full-length shot, 'Bereft of Xerotic Layers', to stand out from the same-sounding and exhausting deluge of mediocre, derivative, uninspired, nigh-on-coma-inducing mass of bland bands stinking out the so-called underground these days.
It's a pretty familiar strategy in Black / Death Metal, with drums very much in the foreground, dancing an ominous and delightful tattoo across everything else, and it works a treat. One reference point that springs readily to mind is Altarage, the Basque battering ram which also peppers the senses with wondrous, memorable stick work. In Goat Primator, Pale Spektre have a possessed beast behind the kit and his magnificent contribution to the captivating nature of 'Bereft of Xerotic Layers' is immeasurable.
This would of course all be a waste of time and energy if everything else wasn't also in its rightful place and at least on a par with the prominent, precise and powerful skin bashing. Thankfully, Pale Spektre bring much more than percussive artillery to the altar on their fantastic debut release – ghastly vocals from the outer reaches of the spectral realm combine with razor-sharp riffs and bubbling bass in a maelstrom of existential angst and chaos that has to be experienced to be fully appreciated. 'Bereft of Xerotic Layers' is one of those records that keeps getting better with each listen, snaking its way into the subconscious, leaving scars that demand further damage, almost illogically.

Another trump card on this utterly immense and immersive onslaught of pitch black disorder and disarray is the perfect production granted by Dakhma seer Karapan Darvish in conjunction with the aforementioned G.P., which ensures that – even though it's a turbulent storm that rages on 'Bereft of Xerotic Layers' – every note, bellow and stroke lives and breathes organically through the tempestuous sonic surge.
A swirling, majestic, head-spinning black / death attack is counterpointed by the immaculate incorporation of ambient passages – most notably the organ and theremin deployed at the eerily-ethereal end of ten-minute seventh and final track, 'Riven Spirits Shall Abide' – resulting in a rare and rich record that commands the attention from start to finish time and time again.
Evilometer: 666/666