RECLUSE – STILLBIRTH IN BETHLEHEM LP (Darker Than Black Records)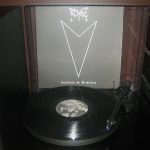 This is astonishingly great. Nasty, dirty, disorientating music complemented by twisted, possessed vocals that could have been recorded in an abattoir or on the set of a Japanese horror movie (or maybe even both seeing as vomit duties are shared).
I like my Black Metal as corrupt and depraved as possible and 'Stillbirth In Bethlehem' ticks every oozing, stinking, crawling box. Rotten to the core, festered to the sore and sick as all unholy fuck, this is the sound of pestilence, death, disease, sickness, torture, anguish, abuse, deviancy, dismemberment and every other common human trait.
Makes the latest Cobalt LP sound like Val Doonican. Not that that would be hard.
Evilometer: 666/666