NAHTRUNAR – EXISTENZ LP (Altare Productions / Arcane Angels)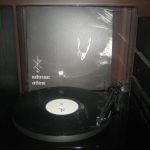 'Existenz' arrived from Portugal in a timely fashion and I removed it from the mailer, sniffed it and then reached for a knife to make the little hole at the centre slightly larger. It's all part of the ritual. Gave it a spin or ten, knowing exactly what to expect as I'd checked out the tracks already on Bandcamp. It's all part of the ritual.
Besides, there was enough quality evident on debut full-length, 'Symbolismus', to make it abundantly clear that purchasing the follow-up was a safe bet. Here, Nahtrunar delivers another 43 minutes or so of supreme, obscure, dizzying, calm-to-frenzied Black Metal meditations with oodles of somewhat unnerving melody and a graveyard of black soul.
This one is limited to 250 units and is worth hurting down for sure, despite the woefully dodgy bit of singing near the end.
Evilometer: 666/666