VOID MEDITATION CULT – UTTER THE TONGUE OF THE DEAD LP (Hells Headbangers Records)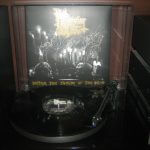 Fulfilling the abundant promise hinted at by 'Sulfurous Prayers Of Blight And Darkness', Void Meditation Cult's debut full-length is a predictably excellent exercise in pitch black, devilish, death worship … crude and vulgar yet hypnotic and about as forgettable as a bout of good old-fashioned child sacrifice.
Mostly mid-paced, 'Utter The Tongue Of The Dead' buzzes along with immense intent and conviction. In many ways, it's the epitome of what underground Black / Death Metal is all about. I could peddle all the usual double-negative adjectives and superlatives in a futile endeavour to try to highlight how much fun the record is, but instead I'll suggest that you check this out for yourself on Bandcamp before, inevitably, placing an order for a physical copy.
Housed in a gatefold jacket with all lyrics printed inside. And plenty of copies have been pressed, so no need to stress yourself over the first-world problem that increasingly perturbs us all.
Evilometer: 666/666