RIDE FOR REVENGE – CHAPTER OF ALCHEMY: SINGLES AND COMPILATION TRACKS 2006-2013 (Fuck Yoga Records)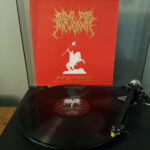 Comprising three pieces of depraved Finnish filth across twelve-and-a-bit minutes, 'The Renegade Temple' was initially released on 7" thirteen years ago, in between Ride For Revenge's magnificent first two full-lengths, 'The King Of Snakes' and 'Wisdom Of The Few' and is re-presented here on Side B of this wondrous double-vinyl collation. For those offerings alone, which were executed in their entirety by Harald Mentor, it is worth acquiring 'Chapter Of Alchemy: Singles And Compilation Tracks 2006-2013'.
As the title reveals, this album features a collection of songs from Ride For Revenge's notorious history, also featuring their contributions to the splits with Torturium and Meti Bhuvah as well as a host of weird and wonderful curses and spells gathered from an assortment of Various Artists releases. Even grimier and less sophisticated than what we might find on a Ride For Revenge full-length proper. In total, there are thirteen corruptions included, spread across 66 minutes of degeneracy. So wide-ranging are the sources used, it's unlikely that many will have all of this material already, so 'Chapter Of Alchemy' presents a timely opportunity to acquire a diverse multitude of RFR curios in one fell swoop.
As a whole, the album provides a very good snapshot of the many faces of Ride For Revenge, with some noise elements incorporated as well as the trademark twisted Black Metal malignancy, the tortured 17-minute 'Apoliteia' – an uncompromising, bewitching five-act communication culled from 'Helvetin Musta Peto' – being a perfect case in point.
Elsewhere, there's not a dud track to be found as we are once more exposed to the sheer uniqueness and brilliance of this one-off intoxicating cult. How many other bands in any genre could pull together some of their most obscure and raw recordings and end up with yet another record that is utterly magnificent? There's a reason why I seem to have used the term mandatory in practically every Ride For Revenge review I've written over the years.
Evilometer: 666/666