RITUAL DEATH – LORD OF THE TOMB LP (Terratur Possessions)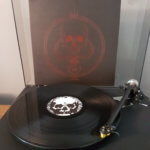 'Lord of the Tomb' gathers together in chronological order all previously-released Ritual Death material, beginning with the self-titled 7" EP from 2016 and ending with the also-self-titled 10" EP from 2018. In between, we get the thoroughly foul 'Señor de la tumba' and the poisonous 'Blood Oblation' from the split 7"s with 13th Moon and Aosoth respectively. In total, the eleven tracks combine to generate 40 minutes of sinister, decadent, ceremonial underground Black Metal from these twisted, grave-robbing Trondheim ghouls.
Considering the personnel behind this band and their individual statuses within the celebrated Nidrosian Black Metal movement in general, it is no surprise that Ritual Death – despite its fairly limited and sporadic recording activity thus far – is a blood-thirsty, death-worshipping force to be reckoned with. Their music reeks of unhallowed ceremonies of death, the sound of guys who spend too much time lurking in graveyards at night, with only the pale moon for company. Decay and rot seep through the speakers in equal doses.
Collectively, these funeral dirges could be the soundtrack to the sickest, most obscene horror movie never made – eerie, creepy, unsettling and nightmarishly nasty. The use of organ adds to the overall atmosphere of degeneracy and the offerings are as cleverly and effectively crafted as they are crude and lewd. There is a detectable increase in quality as the record progresses, with the four unforgettable tracks from 'Ritual Death II' the pick of the lot.
That 10" really whet my appetite for a full-length, which unfortunately has yet to materialise. However, Ritual Death have also forged a stellar reputation for their captivating live performances, so – despite the many other commitments of the respective members – it is perhaps safe to assume that this is very much an active band.
In the meantime, while we are waiting, 'Lord of the Tomb' is a worthy release in its own right – definitely worth tracking down. You know you are going to get quality from Terratur and the 180g record comes in a beautiful embossed gatefold sleeve with classy, ultra-professional layout, artwork, photos and an insert included. A brilliant release all around and hopefully there is more to come from these enigmatic masters of the macabre.
Evilometer: 666/666