SUNWHEEL – IRON AGE OF STRIFE (Militant Zone)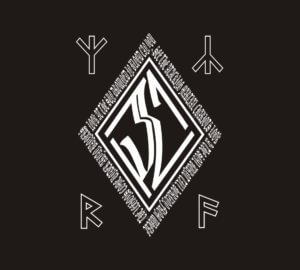 Short instrumental 'Clouds of War Gather' ominously announces the return of Sunwheel and the belligerent demonstration of defiance that is 'Solar Path of Power' makes it immediately clear that these legends of the ancient Polish underground have relinquished none of their power, passion or militant might ("The time for the total war against the people of the forked tongue is now upon us"). 'Iron Age of Strife' is no nostalgia trip but rather marks the dawn of a new era for Sunwheel. This is the sound of a triumphant rebirth – a potent and emphatic statement in its own right.
Sunwheel's legacy in Black Metal's hall of infamy is already assured, yet it is heartening that in 2021 they have – with founding members Piąty (vocals, guitars, keyboards) and Aranath (bass) reunited under this banner (and working together on a full-length for the first time) – released an album to match those iconic offerings of yore, 'Monuments of the Elder Faith' and 'Industry of Death'.
The song-writing and musicianship throughout the album's generous 54-minute duration are exemplary, from the uncanny infectiousness of the glorious, majestic, nine-minute opus 'Unlock the Paths of Sorrow' and the shredding, pummelling ferocity of 'Scepter of Destiny' to the mystical might of 'Lidless Wells of Dreams' and the galloping splendour of parting shot, 'Taniec Run' (this one performed in the artists' native tongue).
As well as being musically impressive and granted a strong production, 'Iron Age of Strife' is packed with a vast range of powerful emotions, the overall impression it leaves being a decidedly upbeat one. While the threat of the initial Slavic invasion – when Hate Forest, Astrofaes, Drudkh, Sunwheel, Kataxu, Gontyna Kry and a host of others emerged from the east with fire in their bellies – is now consigned to the distant past, that ancient fire still burns as Sunwheel continue to resolutely embrace their ancestral heritage, culture and values whilst rejecting the modern world.
Evilometer: 666/666