SACRIFICIA MORTUORUM / ORTHANC – SACRIFICIA MORTUORUM / ORTHANC 2LP (Hass Weg Productions)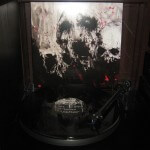 This is essentially a double album rather than a split LP. Each band more or less offers a full-length's worth of material: four songs comprising a generous 40 minutes from the excellent Sacrificia Mortuorum and five songs lasting 28 minutes from the not-so-excellent Orthanc.
Certainly good value for money if you happen to enjoy both hordes, with the two records contained in a luxurious gatefold jacket and strong evidence of a great investment of effort and professionalism from the label.
As ever, Sacrificia Mortuorum delivers big time. While the material arguably isn't quite as strong as their four albums proper (When is 'Railler L'Hymen Des Siècles' getting a vinyl incarnation?), it is nonetheless superb highly-emotional French Black Metal art.
But the less said about Peste Noire-worshipping compatriots Orthanc and their silly little jigs and dumb Iron Maiden cover the better. The median of 666 and 000 is 333, therefore…
Evilometer: 333/666