SAD – MISTY BREATH OF ANCIENT FORESTS (Purity Through Fire)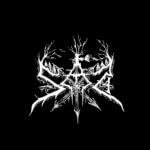 Eschewing the epic grandeur and warm-blooded romance of Hellenic Black Metal, SAD has always been something of an anomaly within the Greek BM fraternity, much closer in spirit to their church-burning, forest-dwelling Scandinavian counterparts than their more sun-kissed, symphonic- and / or gothic-orientated compatriots. With no hype or self-promotion – content instead to let their music do the talking – Ungod and Nadir have been embracing darkness and nihilism for 15 years, 'Misty Breath Of Ancient Forests' representing the seventh full-length of a strangely unheralded recording career that has flown so far beneath the radar that it's been scorched by the very fires of hell.
SAD travel the grim and raw path, mustering negative storms from Black Metal's ancient past, stubbornly sticking to their principles, refusing to change course or embrace more progressive or mature elements. The results are refreshing and reassuring as the Greeks have unleashed a steady stream of high-quality frostbitten, bitter, desolate Black Metal that, while bringing nothing new to play that wasn't already common a quarter of a century hitherto, is nevertheless worthy of a listen, even if only for the purpose of invoking nostalgia.
At the heart of this album lie 'Misty Breath Of Ancient Forests (Part I)' and 'Misty Breath Of Ancient Forests (Part II)', two stand-out offerings of cold, shrill, raw (cult?) Black Metal majesty in the old fevered style, proclaiming might and pride, celebrations of the inherent sorrow that resides beautifully in all things – songs that have transcended the natural barriers of time and space to arrive in the here and now, pulsing with atmosphere and emotion, the portentous, malevolent 'Hellish Ride' another clear high point.
The riffs are of classic Black Metal, steeped in soaring chaos, vocals suitably demonic, drums pounding for Satan; everything in its rightful place as SAD add yet another outstanding, ominous full-length to their often-disregarded discography. There are many better-known Black Metal entities, but 'Misty Breath Of Ancient Forests'  proves that very few of them can claim legitimately to have been as consistent, unwavering or true to their convictions as SAD.
Evilometer: 555/666