SARGEIST – THE REBIRTH OF A CURSED EXISTENCE (World Terror Committee)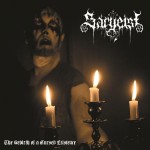 As we wait patiently for a new Sargeist album, this stop-gap release is more than adequate to keep hunger at bay. 'The Rebirth Of A Cursed Existence' features 14 songs that were previously only available either on splits, 7"s or compilations … or as bonus tracks on vinyl LPs. They have all been remastered for this fantastic 72-minute long CD which constitutes an ideal way of catching up on some of the band's lesser-known gems.
Not that any of their music is well-known…
You can't go wrong with this album, which in many (if not all) respects is every bit as enjoyable and worthwhile as a full-length proper. I've decided to pen a very quick review for two reasons: firstly, you deserve to hear that this exists; secondly, I don't want those Watain wankers hogging the limelight at the top of my homepage.
Evilometer: 555/666