SARKRISTA – THE ACHERONIAN WORSHIP LP (Purity Through Fire)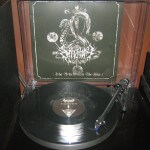 Sarkrista's debut album first emerged on CD early in 2013 but 'The Acheronian Worship' only received its vinyl makeover a few months ago. With seven blasts of impressive, raw-ish yet melodic, mostly mid-paced, icy cold Black Metal on offer (plus an intro), there's no denying that Sarkrista are a class act capable of delivering stunning BM of the frozen variety.
I don't think the artwork quite does justice to how good this full-length is (nor does it capture the chilling feel of the record) and I believe the whole experience would have been enhanced by the inclusion of an insert and lyrics (again, to complete the package and improve the listener-artist interaction) … but these are just minor quibbles and overall this is a great buy, widely available at a very fair price.
Evilometer: 555/666