SATYRICON – DARK MEDIEVAL TIMES 2LP (Napalm Records)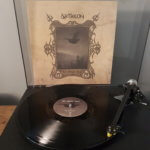 It's rather astonishing to think that Satyr was only 17 years old when Satyricon's iconic debut full-length, 'Dark Medieval Times', was first released (on his own label, Moonfog Productions) in October, 1993. These were seminal times for Black Metal and, with Norway leading the way on the global stage, a slew of trailblazing and highly-influential releases all materialised around the same time. There was magic in the air, as well as the aroma of burning churches.
For Satyr and his loyal partner in crime, Frost, this was an incredibly prolific period as no fewer than three landmark Satyricon albums would emerge within the space of 30 months – each one as mandatory as its predecessor. 'Dark Medieval Times' was quickly followed by 'The Shadowthrone' and 'Nemesis Divina'. There was no internet back then but word spread fast across the ravenous underground and Satyricon were deservedly mentioned in the same breath as compatriots Mayhem, Burzum, Emperor and Enslaved.
Essentially, what we have here is a truly momentous, innovative release that was instrumental in forging the early Black Metal sound. Rasping, intense and oftentimes frostbitten Black Metal is blended with more folk-inspired passages to create an album that is at the same time fierce but also triumphant. Strong folk influences can be detected throughout, a medieval atmosphere prevailing but with the power and heft of the nascent early Norwegian Black Metal movement blasting through. Listening along, ne can almost feel the temperature drop.
This glorious double-vinyl edition of 'Dark Medieval Times' looks and sounds fantastic. Satyr remastered the seven ancient tracks specifically for this long-overdue resurrection but this is done in a subtle way so that all the character and charm of yore is maintained. Presumably to optimise sound fidelity, the music is spread across two records, which are housed inside a splendid matt gatefold jacket, complete with new artwork.
There's even a comprehensive interview with the man himself printed on one of the two included inserts, discussing those historic days when the album was created. This is a timely reminder of how great Satyricon used to be. Collector's items don't really come any more mandatory than this.
Evilometer: 666/666