SERPENTS LAIR – CIRCUMAMBULATING THE STILLBORN LP (Fallen Empire Records / Duplicate Records)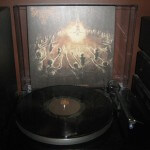 Serpents Lair from Denmark have overlooked the mere formality of sticking an apostrophe into their band name but, regarding vastly more important matters, they sure as shit know how to deliver moody and brooding Black Metal of the very highest calibre.
Marrying oodles of atmosphere and no little leadenness, 'Circumambulating The Stillborn' is an engaging debut album from a worthy new addition to the ever-burgeoning BM family, not far removed from Dødsengel in the hypothetical lineage stakes and perhaps boasting Icelandic kin, too.
I can't read the accompanying lyrics properly due to a cunted combination of small, golden print and long-sightedness that becomes more pronounced with middle age but, hey, these first-world problems are what make life interesting. Along with wonderful Black Metal, death and disease.
Evilometer: 666/666