VOLAHN / SHATAAN / ARIZMENDA / KALLATHON – DESERT DANCES & SERPENT SERMONS LP (Iron Bonehead Productions)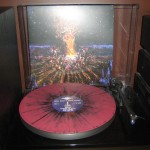 Continuing where the astonishing 'Tlilitic Tlapoyauak' left off, 'Desert Dances & Serpent Sermons' is another collaborative effort from Eduardo "Volahn" Ramirez and his Black Twilight Circle horde of acolytes, who evoke from the arid, tumbleweed-strewn earth of Southern California a unique strain of esoteric, tribal, truly transcendental Black Metal of magical Mexican ancestry.
This time around, there are four acts involved – inimitable BTC daddies Volahn and Arizmenda back-to-back with lesser-sung scene heroes Shataan and Kallathon. Even though Shataan isn't to my own personal liking, the record as a whole is rather amazing, with terrific ebb and flow, wondrous pacing, delivering three-quarters-of-an-hour of intriguing and genuinely different music.
Throw in a beautiful jacket, nice splatter record, booklet with lyrics plus poster and you just know 'Desert Dances & Serpent Sermons' is another sure-fire winner. Both visually and aurally, this split LP is a fucking feast, a conjuration to be celebrated and devoured.
Evilometer: 666/666