SHAARIMOTH – TEMPLE OF THE ADVERSARIAL FIRE LP (World Terror Committee)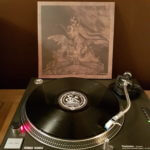 A full dozen years on from their debut, Shaarimoth released sophomore full-length, 'Temple Of The Adversarial Fire', in 2017. The vinyl edition subsequently became available to the discerning masses earlier this year and it's a magnificently-produced effort, housed in a gorgeous gatefold jacket with a 12×12 booklet tidily stapled in, featuring printed lyrics and a generous smattering of suitably occult depictions.
None of this would matter a damn if the 48 minutes of music didn't hit the spot. Well, as it happens, the brand of atypical (I can't bring myself to use the term ritualistic) Death Metal contained on this record is intriguing, thought-provoking and for the most part thoroughly enjoyable so, all in all, this is a decent product worth investigating.
Evilometer: 555/666