TAAKE – KONG VINTER 2LP (Dark Essence Records / Svartekunst Produksjoner)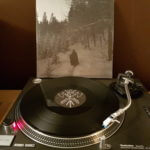 Hoest has been creating great old-style Norwegian Black Metal under the Taake banner for more than two decades and last year saw the genesis of seventh full-length, 'Kong Vinter'. The vinyl edition of the album is wonderful, with two sturdy records housed in a gatefold jacket.
The artwork is really nice and I particularly like the photo on the inside of the cover, which conjures a tremendous sense of solitude and detachment. As does the main image on the front, to be fair. The music is enjoyable, too, I daresay. Soaring, chugging epic 'Maanebrent' is probably the highlight but all eight tracks (including one vinyl-only bonus) are top notch.
The imagery is all about coldness, solitude and isolation. A loner. While musically it would be fair to say that Taake isn't quite ploughing a lone furrow, there are fewer and fewer bands with this genuine, olden Black Metal vibe still intact – and the fact that there are no real surprises is almost a (welcome) surprise in itself these days.
Did I mention the poster? Hail Taake!
Evilometer: 666/666