SHROUD OF THE HERETIC – UNORTHODOX EQUILIBRIUM LP (Iron Bonehead Productions)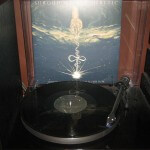 I wonder was there Death Metal before the asteroid struck? How developed / devolved were those people, anyway? Did they have music? Did they have Death Metal? The reason I ask is this: Shroud Of The Heretic's second LP, 'Unorthodox Equilibrium', sounds so primal, so prehistoric and so ancient that surely it can't be part of a musical movement that was spawned only 30 years ago.
This is a monstrous slab of timeless, tectonic, occult, doom-infused Death Metal, comprising four monoliths with an average running time of over ten minutes. Transcending millennia, it sounds modern and refreshing and relevant; it also sounds fucking ancient, soundtracking the dawning and death of entire civilisations.
Indescribably good.
Evilometer: 666/666