MARDUK – VIKTORIA LP (Century Media Records)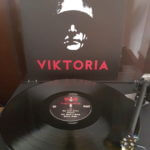 On 'Viktoria' – Marduk's 14th full-length and the sixth with Mortuus behind the mic – the Swedes treat us to just over half an hour of war-mongering bloodlust. World War Two seems to be the pervading theme once more and, even though the album is hardly mandatory if you already own some recent-vintage Marduk, it's still a fine LP and a reminder of why Marduk is one of the truly great BM bands.
Proceedings can seem a little monotonous at times and it does appear that they might be going through the motions to a small degree but, all in all, 'Viktoria' is a superb, powerful record and a worthy addition to the Marduk can(n)on. Critics should bear in mind that a shitty, blighted-by-bastards world with a new Marduk album – even if it's not their best – is a vastly preferable alternative to one without it.
Evilometer: 666/666