SLIDHR – SPIT OF THE APOSTATE MLP (Terratur Possessions)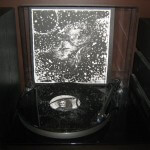 It's a real shame that 'Spit Of The Apostate' is a mini-album and not a full-length. The record is given the works, with a gatefold jacket and poster included, and it sounds fucking immense. But it's bitterly brief at just over 23 minutes and – even though the release in its entirety represents a clear triumph for quality over quantity – it's over before it gets started, really.
Brilliant, but we all want more Slidhr. Alas, but for a full album of this magick… Having said that, I suppose it fits in with a creative concept of some sort. I'm not a huge fan of the MLP format, anyway (they seem to be becoming increasingly prevalent, too, I've noticed). I know a lot of people are attracted to the shorter formats and, if EPs are your thing, then you are sure to enjoy this one.
Spellbinding but short; I'm just greedy for more.
Evilometer: 555/666