SLIDHR – THE FUTILE FIRES OF MAN LP (Ván Records)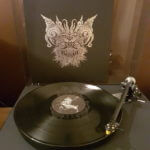 Slidhr's complete surrender to / celebration of the all-consuming darkness is even more pronounced than hitherto on sophomore full-length, 'The Futile Fires Of Man', a journey into the maw of madness, the pitch-black heart of enlightenment, devoid of all hope, resigned to the utter forlorn pointlessness of everything.
Working from a palette of blacks, greys and charcoals, this record is suitably oppressive, bleak and suffocating, to my ear a darker, duller, denser and more resigned experience than any of Slidhr's previous offerings. The somewhat subdued, ostensibly murky production breathes an added layer of sheer horror into proceedings as the cold death of all things pertaining to mankind the pathogen takes hold.
The sinister soundtrack to a glorious purge of a breed without purpose.
Evilometer: 666/666