VOLAHN / TUKAARIA – SPLIT (Crepúsculo Negro / Rhinocervs)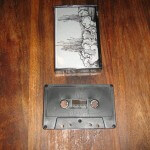 This tape is a total insult and I have returned from semi-retirement to express my disgust. How two labels can come together and still manage to make such a cock of a release is beyond me. However, in the case of Crepúsculo Negro – whose inadequacies I was already all too familiar with due to a previous, almost-interminable delivery delay – it's hardly a surprise.
The problem is so basic it makes me feel like a complete prick for having purchased the cassette in the first place. I'm listening along to the music and it just ends abruptly midway through the last song, i.e. the tape used isn't actually long enough to hold all the music. Fucking amateurs. Purchased directly from the label, too, so no disreputable middlemen involved.
When labels display such blatant disregard for quality and integrity and can't even be bothered to check to make sure that the full album is on the tapes before sending them out, you can but
Evilometer: Fuck Off/666