SVARTSYN – IN DEATH LP (Agonia Records)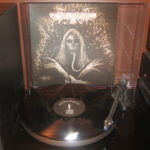 Nineteen years since unleashing his debut full-length under the Svartsyn banner, Ornias delivered his ninth album and first in four years amid zero brouhaha, hype or acknowledgement. Criminally under-rated, Svartsyn has been consistently dropping high-quality Black Metal literally for decades now to virtually no acclaim.
The latest humble offering, 'In Death', is a mesmerising record, for some reason flying so far below the Black Metal hype radar that it almost disappeared into utter obscurity. A fact which tells us all we need to know about the vast majority of sheepshits listening to Black Metal these days…
The millennial mongs seeking underground delights will crave it like an elixir of life if it surfaces on the latest flavour-of-the-month label, limited to 100 copies and discussed to death on a forum somewhere, like a horde of rabid bitches fantasising about a thigh bone and yearning to outgun one another by getting in there first and posting a picture of the record – or their distro receipt – on Instagram.
Yet, staggeringly, they'll almost universally ignore a true gem of astonishing quality that showcases integrity and substance over bullshit.
The fact that this record – which was released in June – is still available on the official Svartsyn Facebook page for a mere €12 is difficult to fathom. But why buy an excellent album and listen to it on your own and stay the fuck quiet about how trendy you are when you can – perhaps – get a sub-standard record that's somehow trendy all of a sudden and gloat about it and take photos to impress your peers?
It's a sad, sad day for Black Metal when factors other than the quality of records are dictating whether or not people (pricks) buy them.
Evilometer: 666/666