ANATOMIA – CRANIAL OBSESSION 2LP (Nuclear War Now!)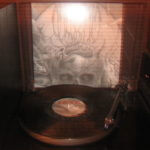 On their stupendously stellar third full-length opus, 'Cranial Obsession', Anatomia display a sense of unnerving energy and ravenous hunger that belies their advancing years. This Japanese three-piece have been around the decayed Doom / Death block a few times but they are really hitting their stride now, eclipsing their hitherto status as rather superb Autopsy clones to morph and grow into something much better than I ever dared imagine.
Stamping their own unique identity all over these eight choice cuts – with a running time of almost 70 minutes – Anatomia have delivered their magnum opus; a veritable Death Metal masterpiece that is sure to garner them a swell of attention globally (within obvious reason). Of course, they'll always reside in the underground, where they can look smugly at their peers, knowing that they have surpassed most of them.
This is a sensational album, seamlessly merging dark doom, dank death and unsettling ambience to conjure something that deserves to be heard and cherished by everybody with even a passing interest in the arts we hold so dearly. The band tags their music as 'dismal slow death metal' on the accompanying lyric sheet / poster and that's a pretty apt description of the magic found herein.
The second record comprises two epic offerings: the 15-minute-plus slow-motion massacre, 'Abysmal Decay' (on its own, longer than some MLPs), on Side C countered by excruciating eleven-minute epitaph, 'Recurrence', as the most fitting denouement to the delirious torture.
Forget about those increasingly-limited-to-all-fuck releases that you need to jump through refresh-page-for-all-eternity hoops to acquire and just snaffle a copy of this instead. Housed within gatefold coffinsleeve, the vinyl edition is awesome. If you don't like it, all is not lost: use the two sharp discs to slowly sever your skinny tasteless neck and decapitate yourself. You will not be missed.
Evilometer: 666/666