TEITANBLOOD – ACCURSED SKIN MLP (Norma Evangelium Diaboli / The Ajna Offensive)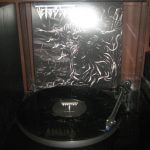 'Accursed Skin' is a 26-minute-long, 45rpm MLP featuring one new song – the title track – paired with 'Sanctified Dysecdysis', which served as foil to previously-vinyl-only-track, 'Purging Tongues', on the 2012 'Woven Black Arteries' CD EP (and was never before available on vinyl). Confused? Me too.
Even though the cost of entry is the same as it would have been for a full-length and this release could be viewed by cynical minds as something of a cash grab, I sincerely do not believe this to be the case. All Teitanblood material is worth having and it was a customer-friendly move from both label and band to make this dual offering available on black wax.
A superb record to get your ears around while awaiting the third album from these superb Spanish chaos invokers.
Evilometer: 666/666