TEITANBLOOD – DEATH 2LP (Norma Evangelium Diaboli)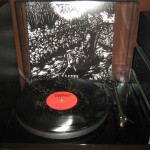 It's very easy to review this album. 'Death' is a savage, blistering, chaotic slab of Death Metal that will rip your fucking face. Off. Somehow, Teitanblood have managed to trump their immense debut 'Seven Chalices' with one of the most coruscating, crushing, monstrous collections of tunes to grace my stereo in a long, long time.
In the midst of the unforgiving aural maelstrom, there are just enough breathers to make the battering ram bearable. But, for the most part, 'Death' is a bludgeoning blitzkrieg of irresistible force, a full-length that will leave you stunned, shattered and yet yearning for more.
Took me a few listens to really get into this one, but the more I hear it now, the better it seems to get. In a word: immense. Seventy minutes of mayhem not to be missed, then, but I do feel that a double-vinyl merits a gatefold jacket (moan, bitch, wail et al).
Evilometer: 666/666