THE RUINS OF BEVERAST / DEATHGATE ARKANUM / NIHIL NOCTURNE / ANTI – GOTT IN UNS LP (Obscure Abhorrence Productions)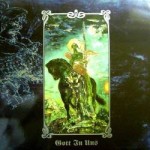 I'm going to be frank: this is probably the best record I own. What a stunning release it is! Limited to just 500 copies and available on vinyl only, 'Gott In Uns' surfaced in 2008, gathering new and 100% exclusive work from four of Germany's finest Black Metal hordes. The music on here – which will never appear anywhere else – is all of a brilliant standard and the artwork and packaging are equally exemplary. You couldn't ask for more.
The Ruins of Beverast's 17-minute offering is worthy of the entry fee alone and is easily as good as anything from either of their three astonishing full-length albums, while Deathgate Arkanum took me by surprise with a ridiculously good track that had me scampering to hear their album, 'Stillhallen'. Weird Nihil Nocturne knock out two conceptually-related songs in just shy of ten minutes and Anti sign off with 15 minutes of depressive bliss.
This is sold out, but it's the kind of LP that makes our underground so unique. Where else will you find such rare, un-commercial and unheralded brilliance? Nowhere. Hunt this down even if you don't have a deck to play it on. It's a pure masterpiece.
Evilometer: 666/666